Filter by Subcategory
Spring 2022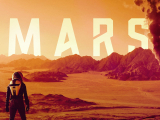 Mission to Mars
with Beverly Williams

Next available session starts Jan 5, 2022 at 9 am

, runs for 14 weeks
Mission to Mars Flight through the Air Force Research Lab (AFRL) provides 4th-6th grade students the opportunity to plan and carry out a simulated manned mission to Mars. By learning facts about Mars and working as a team, your fifth graders (9-11 year olds) prepare for the mission. They will build a habitat, communicate with other teams by solving math problems (adding and subtracting decimals), design and make a patch and their uniform to represent their team, learn about nutrition, and create and perform a song/drama/rap about what they have learned. Their objective is to build a colony of habitats to sustain life on Mars. Students around the city work on their project and activities to prepare them for the mission. The culminating event is when over 1,000 students come together to complete their journey.
To facilitate homeschool student participation in this exciting program, Beverly Williams will offer a class to homeschool 4th-6th graders (ages 9-11). This is a true STEAM program that is an exciting way for your children to learn. Come join us! The class will be held until some time in April 2022, depending on the date of the Link Up Day. To make 14 sessions, there will be additional breaks determined by the teacher. The cost includes ALL materials.
Must pre-register by 30 Sept 2021.
Contact Teacher:cleangreenwithbev@hayden31.com 617-512-4801 or 505-600-1355
If COVID-19 restrictions are uncertain this class will move to ZOOM.